Greetings from Sweden

In the happy nineteen twenties there were a girl and a boy born in the beautiful Dalecarlian part of Sweden. The boy was interested in girls. The girl in singing, decoration, flowers and garden. The boy had started a nursery. The couple made a good business of it and sold it on the top.

The couple have grown old now. Still young in mind and traveling all over the world. Main interest is nature when the sun is bright. Rainy days the man is occupied with genealogy and the wife in baking and cooking.

In our file there are 8600 people (3000 on the net) from different parts of Sweden and a few from USA. Addresses etc. is not included but please contact us if you want to know more about anyone in the file.

Many US and Canadian friends have asked us for help to find their ancestors in Sweden. Most emigrants from Sweden are on our computer. Only 15 miles from our home we can search all the church registers made in Sweden several hundred years back. We also have the Family Tree Maker from Broderbund with a lot of information worldwide.
The page from the home of Anna-Greta and Robert Samuelsson
Anna-Greta and Robert Samuelsson
Back Pers V. 8
SE-78530 GAGNEF
Sweden
Phone ..46 24161507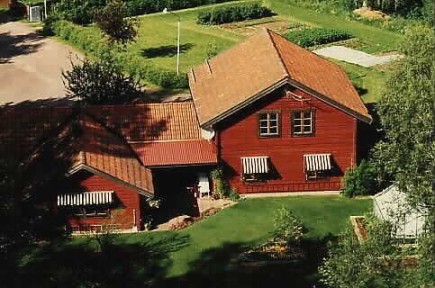 This is our home. Located above the bluff to East Dala River.